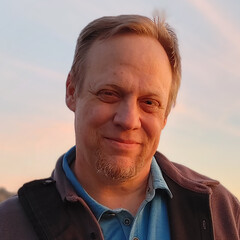 John Hayes
Professional character artist
Seattle, United States
Summary
As a game developer, I bring characters to life with passion and creativity. I thrive on the challenge of pushing the boundaries of imagination and technology to create visually stunning game assets that will captivate players.
My years of experience as a 3D artist and lead artist, have helped me develop my skills in sculpting, texturing, shader setup, rigging, and designing environments, props, and concepts. I am always learning and growing in the digital arts, including illustration, 3D printing, and model making.
Being a self-motivated and disciplined artist, I consistently deliver projects on time and work seamlessly with teams to make a real difference for game players.
Skills
Concept Design
Digital Painting
Illustration
3D Modeling
3D Printing
Character Modeling
Digital Sculpting
Rigging
Texturing
Sculpting
Character Animation
Software proficiency
Productions
Video Game

Rec Room

Year

2016

Role

Senior 3D Artist

Company

Rec Room

Video Game

Spyro Reignited Trilogy

Year

2018

Role

Senior Character Artist

Company

Sanzaru

Mobile Game

Vainglory

Year

2014

Role

Lead Character Artist

Company

Super Evil Megacorp

Video Game

Iron Man 2

Year

2010

Role

Lead Character Artist

Company

Sega

Video Game

Golden Axe Beast Rider

Year

2008

Role

Senior Character Artist

Company

Sega

Video Game

Lair

Year

2007

Role

Character Artist

Company

Factor 5

Video Game

Final Fight Streetwise

Year

2006

Role

Lead Character Artist

Company

Capcom

Video Game

Maximo vs Army of Zin

Year

2004

Role

Senior Character Artist

Company

Capcom

Video Game

Maximo Ghosts to GLory

Year

2002

Role

Character Artist

Company

Capcom
Experience
Senior Character Artist at Sanzaru Games

Foster City, United States of America

April 2018 - November 2018

Lead Character Artist at Super Evil Megacorp

San Mateo, United States of America

Senior Character Artist at Sanzaru Games

Foster City, United States of America

Lead Character Artist at Sega Studios

San Francisco, United States of America

Lead Character Artist at Capcom Studio 8

sunnyvale, United States of America

October 2001 - April 2006

Senior Character Artist at H2O Entertainment

Vancouver, Canada

May 1997 - September 2001